a children's story for adults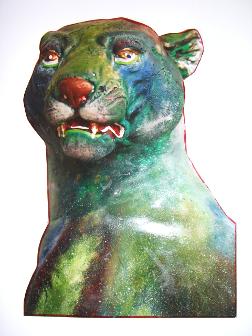 Be magically transported as I read my first audio book to you. Being a children story for adults and an adult story for children, The Green Leopard & The Chemical Factory is suitable for the whole family. Running at 26 minutes, it can be enjoyed in one sitting. Along with the MP3 audio file, you also receive a The Green Leopard & The Chemical Factory Booklet Pdf so that you can print it out and read along.
Any and all donations made to this website automatically receive a copy of The Green leopard & The Chemical Factory. Everything is sent to the email address appearing on the PayPal receipt.
Happy Days and Thank You!
Michael.
Sam writes: And what a difference it is to listen to you telling the story!!
I thoroughly enjoyed the whole poetic and rhythmic telling of it - couldn't wipe the smile off my face most of the way through! The sound effects as well as your various character voices are brilliant, and kept me interested and imagining the scene throughout. My last recollection of listening to any story takes me back to my childhood when my mother used to play the 'Peter and the Wolf' record. It was a scary story to me, with scary music, at a time I'd rather not recall. But so appreciative to now have listened to your gorgeous story, which also feels like being reflective of how life for me has turned around full circle from those times, and I am becoming free to indulge the child in me now.
Maissa writes: Thank you for this mysterious tale Michael. Each time I listen to it, it produces a different insight. I wish I could write a review but my english is not very good. You tell it very well, as if you were talking to the child in every listener and the sound arrangements are great, the whole left me intrigued and content. I kept seeing visual representations of the story, I'm sure one day someone who knows how to draw will send you illustrations of it.