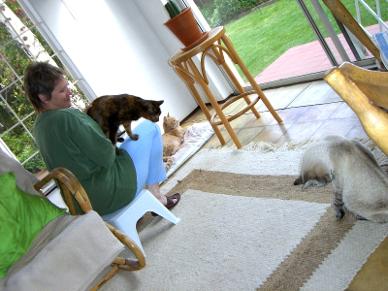 Dot Johnson, who is featured in the story, with three of the book's main stars: Mrs Botjie on her lap, Presence in the background, and Big Guy having a cat-bath. Taken in 2005 in the Sophiatown house.
Dot writes: Besides the fact that I am totally a cat person and enjoyed the book immensely, there is something much deeper going on here. I love the subtle messages, the humanness and of course the cat-ness of the book. It has confirmed for me how something, seemingly ordinary, turns out to be something spectacular. It is not just another mad cat-lady book; this is a book to cherish and re-read and get another message on another levelevery time you do so.
Dorothy Johnson is now Manager at Keurfontein Country House, Willowmore District, Eastern Cape, South Africa.
Nora writes:
Dearest ​Michael,
I just now finished reading Cat Tales for Mariette...
So touched by your love for your fur friends...
I can visualize and feel I know and love each one... also a very real insight into you...
Your openness to Cathy's challenge, the friendship with Mariette and how she slowly grew on me... delightful story Michael... love-love the book... the story will move all who read it.
We don't have cats at the moment, but I am reminded of our beloved Mewmeow and JJ. Each such characters in their own way... we had so many laughs... they lived long and happy lives... both are buried in the yard.
Thank you for sharing your moving story and thank you for the memories. Vim is reading it next.
MEOW to Big Guy and Chubby Choppis.
Many blessings and much love,
Nora
PS. You've since let us know that Presence passed on… an angel...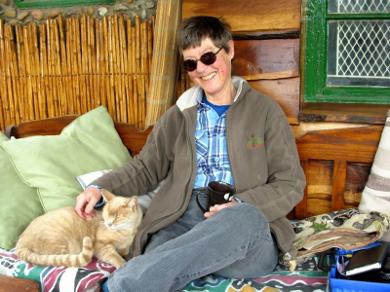 Shauna Wescott, upon whom the character of Kate is based, with Presence, sitting togetherupon the couch where the story of Cat Tales For Mariette begins.
Shauna writes: Cat Tales is as beguiling as cats themselves. I could not stop reading until the last page despite having no time! The light touch accompanies great depth, including a truly exquisite love letter. This is Michael Brown at his Gandolphian best.