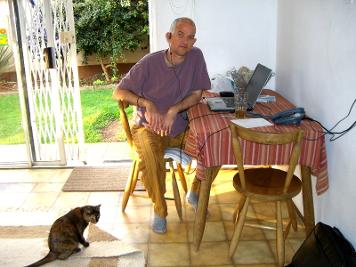 This is the room and desk at 73 Ray Street, Sophiatown, where I wrote The Presence Process. Present also is my co-writer, The late Great Mrs Botjie.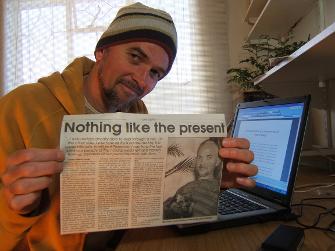 I cannot remember how I came to be interviewed about having been published through Namaste Publishing, but this was the first newspaper article about the event. It was a big deal for an unpublished author in South Africa to get signed by an International publishing company after only sending out one manuscript. I sent it to Constance Kellough because she published The Power Of Now by Eckhart Tolle, which was the only other literature at that time that resembled what I was conveying through The Presence Process. In the photo of the article you can make out the Late Great Mrs Botjie nestled against my chest. She was just two years old then and oversaw the entire writing of the book, hence she insisted on being in the press release too. She is now a star in my forthcoming book, Cat Tales For Mariette, the writing of which she also oversaw.
I had to include one of my first publicity pics. Really? What was I thinking?! There are worse ones, but we won't go there...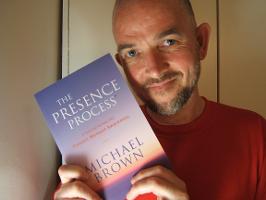 Proudly receiving my very first copy of the First Edition of The Presence Process late in 2005. Possibly the proudest moment of my life, which could only have been overshadowed by having birthed a child. It took 13 years from when I started my quest for self-healing until I held this book in my hand. Little did I know, when this picture was taken, that the book would take me traveling far and wide, meeting such magnificent people, and that it would be published in 12 languages. In 2008 I rewrote the book, again with Mrs Botjie overseeing the details, and so it is now available in a new edition with a new cover.
This is the Late Dr Paul Bahder, who was indeed the unseen force behind getting The Presence Process know throughout The United States and the world. He was also a dear, dear friend. He arranged my first trip to The United States, my first book signing, my first presentation, gave me a place to stay while I traveled here and there, and also created the first website, The Presence Portal. I miss you Paul. I miss our dinners on the Princeton sidewalk, our long quiet chats, our outbursts of spontaneous laughter, and the radiance of your most beautiful soul. Thank you for making sure this work got the initial shove it required to reach so many people. It is indeed the most beautiful and selfless Seva, my beloved friend!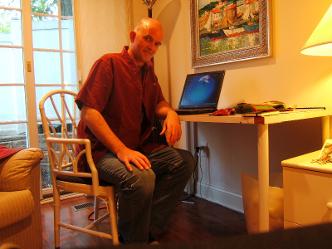 This pic was taken while I was writing Alchemy Of The Heart in the beautiful rent-free space provided to me by Dr Paul Bahder. I tamed the squirrels outside and they used to pop in when those glass double-doors where open to have a snack with me.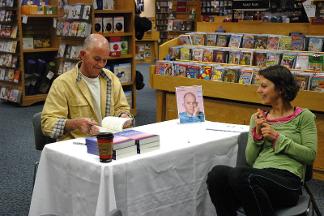 This is that first book signing organized in a Princeton Mall by the Late Dr Bahder. I found out right there and then that I was not cut out to be a book-seller or to do book signings in malls. Hence, it was also my last book signing in a book shop!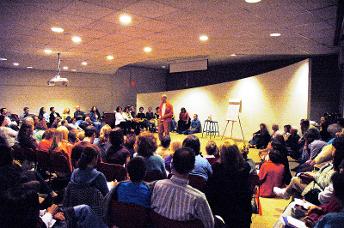 This was that first presentation organized in Princeton by the Late Dr Paul Bahder. It was here I learned a most valuable lesson: As Dr Bahder was introducing me, I realized I had left my well-written talk in my bag at the entrance to the venue! In that moment I had to choose between, apologizing and then fetching it, or just talking off-the-cuff. I chose the latter and discovered I didn't need to speak from anything written down. From that moment onward I never again spoke from a prepared written paper . Thank you Paul!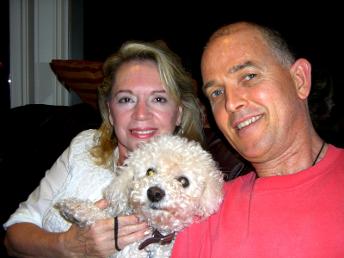 It was quite a ways along my journey before I finally got to meet my wonderful publisher, Constance Kellough, and her Late Great Biju. As I recall, I celebrated the moment by giving her one of my famous foot massages! I call Constance CBB [Constance Boss Bird] and 'My Goddess Of Abundance'. My encounter with Constance, initially through email, changed my life forever, and in doing so, change the quality of life experience for thousands of people in The United States and Canada that have done The Presence Process Procedure. And now also in many countries across the world, including Spain, Mexico, Greece, Turkey, Croatia, Russia, Italy, Kuwait, South Africa, The United Kingdom, Holland, China, France, Germany, and anywhere else it may have been published that I do not currently recall. So who knows, maybe over 100 000 people have done it by now. Thank you Constance!!!!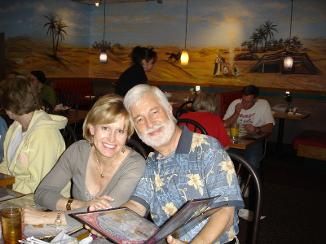 Whilst giving a presentation in Louisiana I also finally got to meet Lucinda Beacham and David Ord of Namaste Publishing, both of whom have played major roles in the editing of my books and more; both The Presence Process and Alchemy Of The Heart. God knows I need an editor - and God sent these two to the rescue! They are now both working on Cat Tales For Mariette.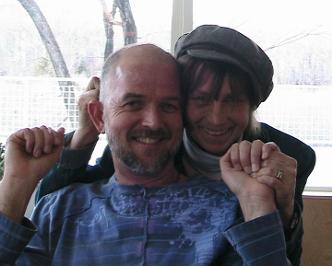 On my journey spreading the work of The Presence Process, the greatest gift I received was the love from the people I met, all of them. As I get older, this is the gift I come to cherish the most and the memories I take careful care of. I love this picture with Christian Mystic, Cynthia Bourgeault, because it represents the many encounters I had with such beautiful souls. I could not have known when I first started having my pain attacks in the late 80's that they would lead me into moment of such beauty, love and grace.
Magical Moments Along The Way...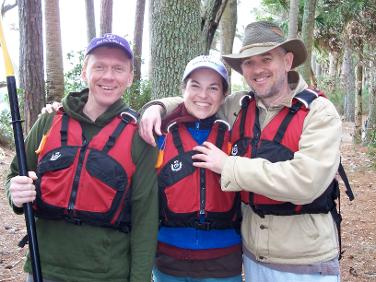 Canoeing with the adorable Steve Munn and Shannon McCarthy from ClearPoint Center in Connecticut. They have become proud parents of two new lives since I last saw them. Lucky children!!!!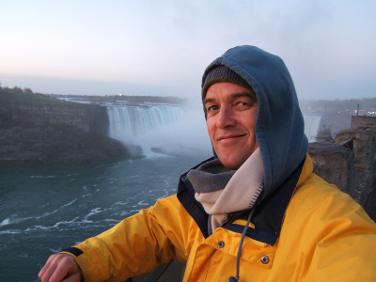 Visiting the Niagra Falls at 5 AM before the tourists arrive.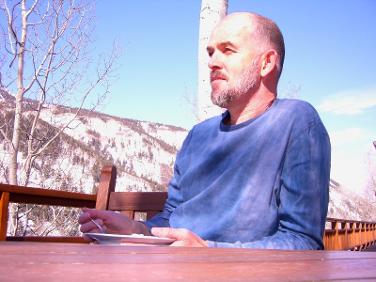 Breakfast in Aspen before the day's presentation.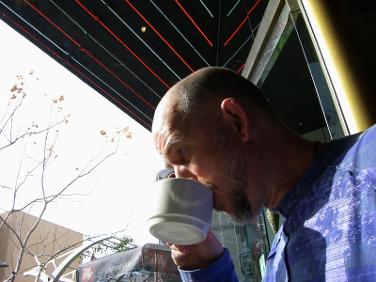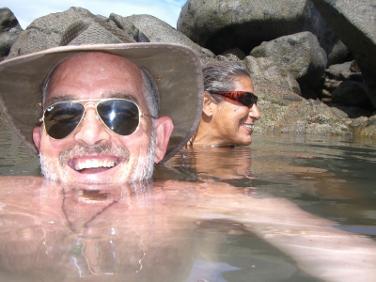 Swimming with Shaman Anna in a secret mermaid pool in a secret location in Mexico.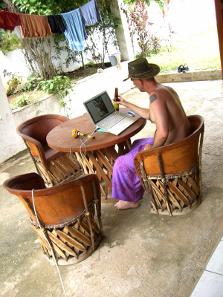 Keeping up with my correspondence in Mexico, while sipping Corona - La Cerveza Mas Fina. Also to my left is a gourde with which I was singing some of my cherished Native American Church Songs. Corona will do that to you.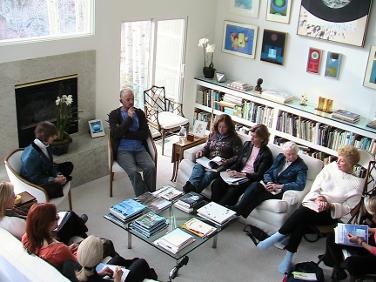 An intimate group encounter in Aspen, with Cynthia Bourgeault to my right. As with many encounters around this work - all women!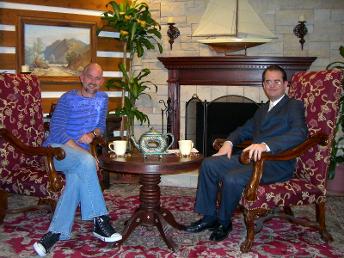 Meeting with Brett Moss from The Unification Church [The Moonies] during my interview with him for The Defining Moment Television Show. He said he wasn't gong to bother trying to brainwash me because I had already 'washed my brain', but he still encouraged me to join them. We had a great time, wonderful dinner and long conversations.
I got to fulfill my dream of learning to surf in Sayulita, Mexico. I wiped out badly on the morning this pic was taken and have a scar on my chest for bragging rights.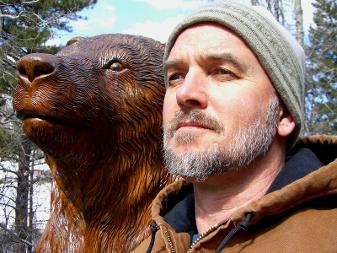 Being my unbearable self during my last trip to Aspen.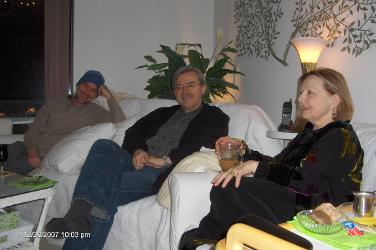 Dinning with Paul and Theresa Bahder in Princeton during my final days in The UnitedStates.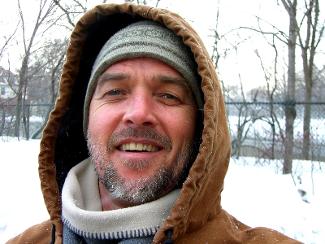 A selfie in the snow during my last trip to Canada before the word 'selfie' existed.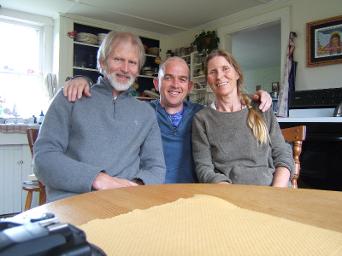 Like David and Bente, so many people opened their homes to me along the way. It was in these loving home spaces that I had so many extraordinary human encounters. From David I learnt Frisbee Golf.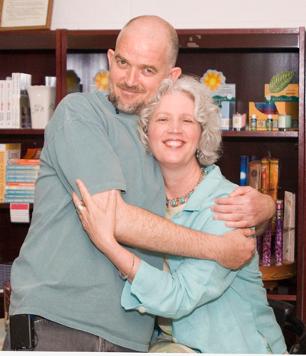 So many people opened their arms to me too, like Rev. Frankie Timmers. I was hugged from one side of my journey to the other! Thank you for filling my heart with so many memories!
Arriving in Aberdeen in 2008 after completing my journey of sharing this work, and where I now happily make my home.